BHARATIYA GLOBAL INFOMEDIA LIMITED organized a Seminar on October 13th, 2011 on HOMELAND SECURITY in coordination with India Trade Promotion Organization & supported by Ministry of Home Affairs.
At the recently organized 14th India International Security Expo'2011, New Delhi, by India Trade Promotion Organization (ITPO),
Bharatiya Global Infomedia Limited
took an opportunity to organize a seminar on one of the most pressing topics in the current days, i.e. Homeland security. The exhibition cum seminar was supported by number of Govt agencies such as Ministry of Home Affairs, Central Para Military Force, CISF, CRPF, ITBP, Delhi Fire Service, National Security Guard etc.
The event was inaugurated by Mr Jitendra Singh, Minister of State for Home Affairs.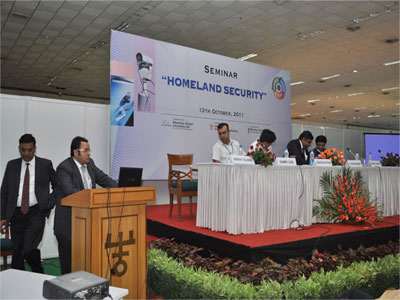 The seminar organized by BGIL called upon the guest speakers from the industry which includes the manufacturers/ suppliers of various security equipments such as access control system, scanners for explosive detection, fire alarm and fire fighting equipments etc. Some of the guest speakers to the seminar were
Mr. Rammy Suri,
Regional Practice Manager, IBMS & Physical Security,
WIPRO LIMITED
(INFOTECH DIVISION) who spoke about Wipro's view towards security in India,
Mr Prasad Parasuraman,
Managing Director,
P.S. TECHCOM PVT. LTD.,
spoke on next generation fire safety,
Mr Sanjeev Sachdev,
Managing Partner,
TOSHI AUTOMATIC,
pulled attention towards gate security equipments,
Mr Ashish Bhutani,
Managing Director,
OMNIA TECHNOLOGIES PVT. LTD.
who expressed his views on RFID in defence and Homeland security,
Mr Vikram Sehgal, DIG ITPO,
spoke about security perspective of common people, and
Mr Arpan Talwar,
Chief Executive Officer,
BHARATIYA GLOBAL INFOMEDIA LIMITED,
introduced the concept of
Security 3.0
(a single window view towards physical and information security). The event was inaugurated & closed by
Mr. Sanjeev kr Mittal, Director, Bharatiya Global Infomedia Ltd.
Bharatiya Global Infomedia Limited was also appreciated by Mr. Raj K Chopra, DGM, ITPO during the final award ceremony for organizing and hosting a responsive and knowledgeable seminar.