DELOITTE Technology Fast 50 India 2011 has awarded Bharatiya Global Infomedia Limited as one the fastest growing and dynamic technology companies in India. This award was presented in a glittering function held at Hotel Taj Gardenia, Bangalore on 21st Oct'2011 by NASSCOM Chief Mr. Som Mittal.
This award is organized by Deloitte Touche Tohmatsu India Private Limited and encompasses all technology industry segments including Software, Telecommunications/ Networking, Computers/Peripherals, Internet, Semiconductors, Electronics, Biotechnology, Medical equipment, Green Technology, Electronic Security, Media and entertainment.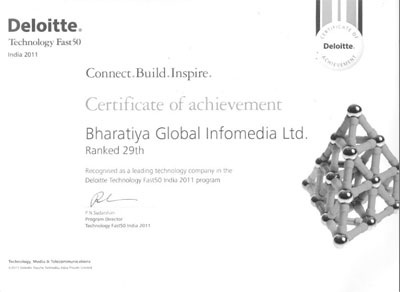 Bharatiya Global Infomedia Limited,
a company mainly focusing on IT-backed Electronic Security Solution designing, development & deployment as well as in media ,achieved a
average growth of 111%
over the last three years and was ranked 29th in the overall awardees. The award was presented by Mr. Som Mittal and Mr. P.N. Sudarshan, Programme Director, Deloitte and was received by Mr. S.K. Mittal, Executive Director, Bharatiya Global Infomedia Limited.
Bharatiya Global Infomedia Limited
is a listed company having its offices in Noida/New Delhi & Mumbai and focusing on
indigenously developed & patented
ITeS solutions on
Security & Automation
for
Buildings, Industries, Highways, Parkings
etc. BGIL has developed several front running
RFID based tracking & locating applications
and is also pioneer in providing all variants of
Parking Management and Guidance Solutions.
The integrated & comprehensive
Building Security
Solution for any kind of buildings has earned several laurels for the company.
The participating companies have been appreciated for displaying remarkable ability to adapt themselves to changing market conditions and needs, said Mr. Som Mittal in his address to audience. The organizations have embraced the vagaries of global economy as a catalyst for success and have come up with innovative solutions and delivery mechanism that provide visible benefits to their customers, ranging from the CTO of global organizations to the rural customer in India trying to access basic services at lowest possible cost, said Mr. P.N.Sudarshan, Director, Deloitte.
All awardees of Technology Fast 50 program automatically qualify for participation in the
Deloitte Technology Fast 500 Asia Pacific Program
which recognizes
500 fastest growing
technology companies in the Asia pacific region and
Bharatiya Global Infomedia Limited
stands very good chance of winning this award as well.